Welcome to the MARINA wiki!

This community was created on the 19th of July 2010, and is dedicated to Welsh-singer songwriter Marina Diamandis, providing a detailed overview of the many aspects of her career. We currently hold 1,220 articles and 7,849 files in total.


Expanding, adding, or fixing up articles is much appreciated in this community. We encourage you to get a feel of how things are laid out before making changes to our wiki to make sure information is accurate and consistent.
---
ABOUT MARINA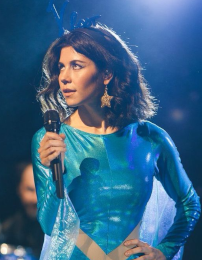 Marina Lambrini Diamandis (born 10 October 1985), better known by her stage name, MARINA (previously Marina and the Diamonds), is a Welsh singer-songwriter. She first garnered public attention after achieving a second-place ranking on the BBC Sound of 2010 list. She released numerous EPs while signed to Neon Gold Records, but signed onto 679 Recordings to produce and release her debut full length studio album, The Family Jewels, which was followed by her third EP, The American Jewels in 2010. In 2012, Marina released her second studio album, Electra Heart, which was followed by her third studio album Froot in 2015. In April of 2019, her fourth studio album LOVE + FEAR. Following this release, Marina released her fifth studio album Ancient Dreams In A Modern Land in 2021, featuring the singles Man's World, Purge The Poison, Ancient Dreams In A Modern Land and Venus Fly Trap. This album features her signature indie-rock sound with sociopolitical topics. Marina is known for being an explorative songwriter who brings killer lyrics and powerhouse vocals to her musical creations, with all five of her albums being diverse and different from one another.
DISCOGRAPHY
---
ALBUMS
EXTENDED PLAYS
---
OTHER
FEATURED VIDEO
---
Watch the official video for Happy Loner!